Contact Info
Apple Valley, UT 84779
Basics
Difficulty:

Advanced
Time To Allow:

3 - 4 hours
Description
►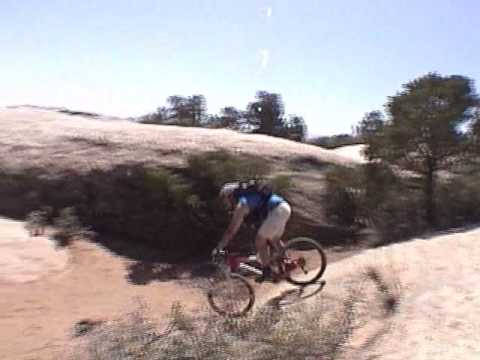 Gooseberry Mesa is a tabletop mesa just west of Zion National Park. The Gooseberry Mesa slickrock singletrack is a new addition to Utah's trail system, and it's absolutely world-class. Several trails allow you to pick your own brand of awesome. Or you can do it all. That's why we keep going back. A Mountain Bike Tour is offered by Bike Zion in this area.
Details
Length:
Many trails to choose from - up to 20 miles
Difficulty:
Advanced
Something for everyone
Time To Allow:
3 - 4 hours
Additional Details:
Gooseberry Mesa mixes slickrock and firm dirt among pinions and junipers. The South Rim slickrock areas are advanced-level technical but only intermediate in strenuousness. The North Rim Trail is intermediate technical.
Unlike Moab's Slickrock Trail, there are no brutal hill-climbs. Instead, the ride is a test of balance, burst strength, and reaction time: short ups, brief downs, and quick turns. You can rarely see where you're going to put the bike 20 feet later.
In summer 2000, the trail was re-marked, with paint spots showing the path through the slickrock. It's obvious that a lot of thought went into making this trail fun. Perhaps that's because this route originated as a mountain bike trail, not as a horse or jeep trail.
Rock surfaces vary from rough chinarump conglomerate to smooth kayenta sandstone. Constantly changing, and always challenging fun.
The loop using the South Rim to The Point, including the Yellow Trail, and returning via the Damn Trail and Slickrock 101 is 12.5 miles in length. We usually spend about 3 to 4 hours goofing off on this loop.
Altitude change from the trail's beginning to The Point is around 100 feet. If you take the mesa road for your return, it will be slightly downhill on the trip back.
For the beginner, the "Practice Loop" also known as Slickrock 101 features easy slickrock with no tricky stuff. Many bikers just head down the central road of the mesa (see map) -- it's a pretty good ride all by itself.For bikers who want to see just how much abuse a bike can take, well, there's an opportunity every few yards. In God's Skateboard Park, you'll find stunts ranging from the merely difficult to the truly insane. But -- here's the beauty of Gooseberry -- a good intermediate rider can take these same trails without feeling he's endangering life and limb. If this trail sounds like a little bit more than what you are looking for, Bike Zion offers a Road Bike Tour in this area. See listing below.
The mesa is very pretty. In the fall, there are pine nuts everywhere. And of course, there are gooseberries. You'll run across cottontails, squirrels, chipmunks, deer, and very large lizards. Cactus of all sorts bloom from spring into early summer. And if you look in the right places, you'll see dinosaur footprints and fossilized wood.
Where the trail hugs the cliff edge, there are incredible views from the south and north rims of the mesa. The temperature up on the mesa is pleasant even in the summer. Expect snow in the winter. At 5400 feet elevation, the mesa top is much cooler than the valleys below, and has an almost constant breeze.
Information provided by utahmountainbiking.com.
Map + Directions