Ogden Valley is nestled in the midst of beautiful Pineview Reservoir, and the communities of Huntsville, Eden, and Liberty.  In winter visitors enjoy some of the best snow on earth at the 3 surrounding ski resorts - Powder Mountain, Snowbasin, and Wolf Mountain.  Snowbasin was home to many of the events at the 2002 winter Olympics, and Powder Mountain is one of the largest ski areas in North America.  Wolf Mountain, with its newly expanded snow-making capabilities, remodeled day lodge, and family friendly atmosphere, is one of the best places to learn to ski and ride.
Huntsville is home to historic attractions such as the Shooting Star Saloon -the longest continually operating saloon in Utah, and the nearby monastery The Abbey of our Lady of the Holy Trinity.  The monastery sells famous Trappist Creamed Honey in fourteen flavors, nutritious 2-grain cereal (a blend of wheat, oats, and bran that cooks into a healthy and delicious breakfast cereal) and freshly ground peanut butter.
Ogden Valley also serves as a base for exploring the wonderful recreational opportunities in the Wasatch Mountains. In summer there are an abundance of good hiking and mountain biking trails for visitors to explore, and winter brings downhill skiing and snowmobiling.
Activities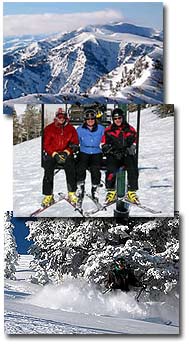 Skiing: While hosting the 2002 Winter Olympic Games, the world may have discovered our secret.  Ogden Valley is home to world-class skiing and snowboarding on Utah's famous powder snow. You will also find equipment rental, sales and services.
Golfing: Take advantage of the cooler temperatures and beautiful views on Ogden Valley's golf courses.
Biking: Spend the day cycling around Pineview Reservoir, or head off-road on mountain biking trails leading to splendid views of Ogden Valley.
Horseback Riding: Guided trail rides take you through the beautiful Ogden Valley or Monte Cristo Range of Northern Utah.
Snowmobiling: Everyone knows that Utah has the greatest snow on earth. Go ahead and explore the area on a snowmobile.
Cities and Towns
Ogden: Nearby Ogden has some interesting museums and historical sites in town and has a wonderful selection of restaurants, shopping, and nightlife.
Salt Lake City: Less than an hour away Salt Lake City is home to the Salt Lake International Airport, and provides quick and easy access to the Ogden Valley.
Eden: East of Ogden, the quaint community of Eden offers small town charm set amongst the beautiful and splenderous backdrop of the Wasatch Mountains.
Request Free Visitor Guide