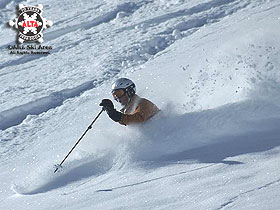 Some suggest that Alta is a mountain with a soul. Others who are involved in the industry lament that "Alta is the best of what they were." It may be that the combination of a rich history and a dedication to the pureness of the skiing experience verify the claims. Alta is a skiers' mountain: snowboarding is not allowed.
Alta Ski Area is committed to preserving and protecting the above mentioned skiing experience. A "skiing emphasis" attempts to match the number of skiers with available facilities and terrain. Alta considers lift lines, weather and slope conditions, as well as the availability of parking, dining, restrooms and other guest services, when it evaluates the experience it offers its guests.
Deep powder snow, rugged terrain and spectacular scenery are world renown characteristics of Alta. Its best kept secret is the great beginner and intermediate terrain. The wide variety of awesome terrain and snow conditions provide skiing opportunities for every level of skier.
Alta hosts recreational racing on Fridays and Saturdays. Recreational racing is open to anyone who wishes to participate. Ski School classes may participate for free. Ski School also offers gate racing private lessons.