Transportation information for Arches NP is provided below. Travel information includes driving directions, maps, airport information and more.
Airports
Daily flights are available to Moab from Salt Lake City on Skywest Airlines (800-453-9417). Westracks shuttle service (435-259-7317) is available to Moab from the airport.
Ground Transportation
Bighorn Express (888-655-RIDE) runs a mini-bus from the Salt Lake Airport to Moab daily. Reservations are required.
Canyonlands Field Moab Airport
Transportation Services
800-842-9251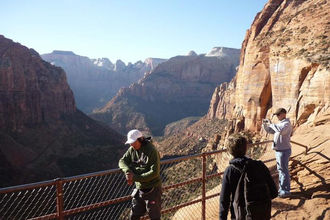 National Park Tours, Hiking, Sightseeing and Transportation Services
Transportation Services
435-590-5864
Map + Directions
Basic Directions
Arches is located 27 miles south of I-70 on Hwy. 191. It is 5 miles northwest of Moab. To help plan your route, please select one of the following maps:
Customizable Directions