Since the early days of the railroad, the Cedar City area has been known as the gateway to Zion, Bryce Canyon and Cedar Breaks. Just look at our ideal location and you can see why we are southern Utah's national park central. And no matter what time of year you visit, scenic southern Utah's national parks are always stunning; like Bryce Canyon with its weathered limestone spires, or there's the majestic slot canyons of Zion and Kolob, and of course, Cedar Breaks with its lush wildflower meadows and fabulous fall colors that are known the world over. In fact, USA Today rated the Cedar Breaks area as one of the top places to see fabulous fall colors in the nation.
Cedar City has not only built a reputation for being the "Gateway to the national parks" it's also recognized for being FESTIVAL CITY, USA. Cedar City is a hot spot for southern Utah's cultural events, including the Tony Award winning Utah Shakespearean Festival.
If the cool mountain air is calling your name, head up to Brian Head Resort . In the summer and fall, Brian Head offers chairlift and shuttle service that whisks you to the top of Brian Head Peak. Over 200 miles of downhill mountain bike trails await and you can rip down incredible roller coaster cruisers and some popping vertical descents. If mountain biking is not your scene, the weekend chairlift service is also available to hikers and sightseers in search of Utah's famous red-rock vistas. Plus, Brian Head has ATV tours, horseback rides, and free summer concerts on most weekends.
In the winter, Brian Head is a great ski and boarding destination. Brian Head has been rated one of America's best ski values because there are virtually no lift lines, the slopes are un-crowded, and daily lift passes are less than $40! Brian Head's adventures also include snowtubing, snowbikes, snowmobile tours, sleigh rides, cross country skiing and full service day spa.
Activities
OHV/ATV Riding - OHV/ATV riding in Scenic Southern Utah is the most exciting way to experience our miles of picturesque backcountry. You can ride for hours on trails ranging from granite slickrock near Three Peaks to alpine mountain trails of the Marakgunt Plateau- there is something for every trail user.
Fishing - Drop your fishing line into a lake or stream and chances are you'll pull up a rainbow, German brown, or brook trout. Color Country has 20 reservoirs, 9 natural lakes, and 10 creeks and rivers that are open and stocked for fishing. Which is the best is a matter of opinion because every single place is some fisherman's secret spot.
Golf - What could be more relaxing than a round of golf at Cedar Ridge Golf Course? The beautiful scenery, teeing within minutes of arriving and knowing that you can play in seclusion without being rushed through your normal round is pure relaxation.
Hiking - Hiking in Scenic Southern Utah is a great way to explore the region and experience the beautiful scenery off the beaten path. There's everything from arches to waterfalls, ancient forests to slot canyons and majestic overlooks. Trails range from easy walks to challenging overnight excursions.
Mountain Bike -Brian Head Resort's Mountain Bike Park offers access to over 200 miles of the areas most scenic andremarkable single track. The combination of our chairlift accessed, and bike shuttle accessed trail system offersan endless variety of biking options.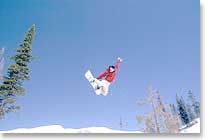 Ski & Snowboard - Brian Head Resort caters to skiers of all levels. Uncrowded slopes, consistent conditions, and trail variety combine to provide an exciting run for every member of your family. Whether it's the entire mountain of beginner runs at Navajo Mountain, the wide range of intermediate and advanced trails at Giant Steps, Brian Head has the perfect fit for you. Serious lines await expert skiers at 11,307 feet. The Peak Express snow-cat service takes skiers to a world of double-black diamond steeps, cliff bands and untracked powder.
Nearby National Parks
Bryce Canyon - Bryce Canyon National Park is named for one of a series of horseshoe-shaped amphitheaters carved from the eastern edge of the Paunsaugunt Plateau in southern Utah. Erosion has shaped colorful Claron limestone and sandstone into thousands of spires, fins, pinnacles and mazes. Collectively called "hoodoos," these unique formations are whimsically arranged and tinted with colors too numerous and subtle to name.
Cedar Breaks - About two miles south of the town of Brian Head lies Cedar Breaks National Monument, a giant amphitheater high atop the Markagunt Plateau, over 2,500 feet deep and more than three miles across. With spectacular colors formed by an abundance of mineral deposits, Cedar Breaks National Monument is breathtaking to behold. The formations in Cedar Breaks consist of ridges, pinnacles and buttresses carved from the steep cliffs by wind and water erosion over more than 30 million years.
Grand Canyon North Rim - Located entirely in northern Arizona, the park encompasses 277 miles of the Colorado River and adjacent uplands. One of the most spectacular examples of erosion anywhere in the world, Grand Canyon is unmatched in the incomparable vistas it offers to visitors on the rim. Grand Canyon National Park is a World Heritage Site.
Kolob Canyons - Kolob Canyons may be the little known portion of Zion National Park, but that doesn't mean that its not as spectacular as the main canyons of the Zion proper. These rugged, red, navajo sandstone canyons have a unique geological history. They are home to diverse animal and plant life, and provide peaceful and serene surroundings to those that visit.
Zion - Zion features stunning scenery found nowhere else on earth. A geologic showpiece with sandstone cliffs among the highest in the world, Zion features one of the last mostly free-flowing river systems on the Colorado Plateau as well as a large, diverse plant and animal community.
Dixie National Forest - The Dixie National Forest occupies almost two million acres and stretches about 170 miles across southern Utah. Utah's largest national forest straddles the divide between the Great Basin and the Colorado River. The scenic beauty of three neighboring national parks and two national monuments prevails over much of the Dixie National Forest as well. The sandstone formations of Red Canyon rival those of Bryce Canyon. The view from Hell's Backbone Bridge into Death Hollow is breathtaking. From the top of Powell Point, it is possible to see into three different states. Boulder Mountain and its many different lakes provide opportunities for hiking, fishing and viewing outstanding scenery.
Attractions
Brian Head Resort - Nestled in the beautiful red rock country northeast of Cedar City, Brian Head Resort boasts plenty of excellent powder skiing.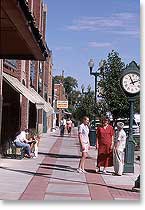 State-of-the-art snowmaking equipment guarantees early season openings, but Brian Head's high altitude gets abundant snowfall of its own from Mother Nature. Rising from 9,600 to 11,307 feet above sea level, Brian Head is the highest ski resort in Utah.
Historic Downtown - The Historic Downtown is a one-block area in Cedar City. Many of the merchants in the Cedar City Historic Downtown Shopping District have restored their buildings to their original turn of the century splendor. The renovations have made the area a charming place to meet, dine and shop. The quaint shops and boutiques are fun to browse.
Parowan Gap - You approach the petroglyphs at Parowan Gap along an ancient trail. In prehistoric times the gap was used by peoples living in the Parowan Valley as a convenient passage through the Red Hills. Yearly migrations passed here on their way west to harvest desert resources. Thus from its earliest time the Gap became a seasonal passage that eventually evolved into a calendar itself.
Festivals
Utah Shakespearean Festival (Summer and Fall) - The Utah Shakespearean Festival is widely recognized as one of the best professional theater events in the nation, and in the year 2000, was awarded the coveted Tony Award for "Outstanding Regional Theater". Time spent at the Festival includes days full of activities including the Shakespeare and contemporary productions, the Greenshow, the Royal Feaste, seminars, classes, tours, and the world famous, southern Utah scenery. Six plays are presented in repertory each Summer Season in two grand theaters: the outdoor Adams Shakespearean Theatre, which is a replica of Shakespeare's Globe Theatre and features only Shakespeare plays; and the indoor Randall L Jones Theatre, a stunning, thoroughly modern facility that features contemporary works.
The Neil Simon Festival (mid July through mid August) - In 2002, The Neil Simon Festival made Cedar City its new home. The Festival is the world's first and only professional theater company dedicated to honoring and preserving the works of America's preeminent comic playwright, Neil Simon. Housed in the beautiful Heritage Center Theatre in Cedar's downtown, the growing theatre company relies on the support of theatre lovers both local and regional. With its slogan "Come Laugh With Us!" the festival certainly creates high expectations, however, the new Cedar City attraction can already boast many loyal patrons that annually make the Neil Simon Festival a destination event.
Request Free Visitor Guide