Find an Adventure in Panguitch, Utah!
Come to Panguitch; the ideal place to call home as you explore the wild and scenically diverse back country of this region. Vacations and family trips are most remembered when they include truly adventurous outdoor fun with a variety of activities to keep everyone entertained. Southern Utah has long been a favored vacation destination for families, couples, and solo adventurers who have an appreciation for the finest landscapes and outdoor sceneries that the US has to offer. Panguitch, Utah in particular is a perfect destination spot for those looking to stay in a comfortable, charming Western town, perfectly placed within driving distance of a wide range of National Parks, lakes, trails, and other attractions. Whether it's an outdoor adventure you're looking for, or a place to relax and enjoy the peaceful surroundings in a small town atmosphere, come to Panguitch where you'll find something for everyone!
Stay/Eat/Shop

Lodging
When your adventure requires a home away from home, choose one of these great places to stay.

Dining
Find a variety of dining options.

Shopping
Panguitch has a fun variety of unique shops.
Services
Panguitch city offers a full range of services.
Things to Do
Outdoor Activities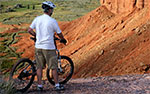 Panguitch is hub to your outdoor activities. From hiking in breathtaking Bryce Canyon National Park, fishing in streams and lakes, mountain biking along scenic red cliff mountains, horseback riding along trails and through canyons, or ATV/UTV riding along hundreds of miles of scenic and adventurous trails. You'll find plenty to do in Panguitch!
Events
Annual Quilt Walk Festival
The Panguitch Quilt Walk Festival remembers the triumph and determined efforts of early Mormon pioneers who made a harrowing journey on foot in the dead of winter for forty miles from the town of Panguitch towards Parowan. Though deep banks of snow threatened their journey, homemade quilts laid one by one in the snow made their trek possible without sinking. The Annual Quilt Walk Festival held the second week in June remembers these early pioneers of Panguitch and the quilts that saved their lives by celebrating in ways every member of the family can enjoy. The tractor pull and tractor parade occur on Panguitch's charming Main Street and as one of the most popular events of the festival is enjoyed well by all ages. Tours of historical pioneer homes that line the streets of Panguitch provide insight into the lives of earlier inhabitants of the town. Of course what would any real celebration be without a dinner and a show! Homemade, Dutch-over dinners are available for those who buy tickets to the annual play commemorating the historical Quilt Walk that the locals put on each year. Other activities to enjoy throughout the festival include a Chocolate Fest, activities for children such as learning to make corn husk dolls or churn butter, and quilt making classes.
Panguitch Valley Balloon Rally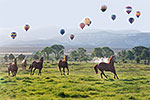 Every summer in June, thousands gather in Panguitch to enjoy an unforgettable scene of colorful hot air balloons as they soar into the open skies above. During the Balloon Festival, enjoy events such as a 5K race, karaoke and bingo, and the highlight of the festival: Saturday evenings Balloon Glow. Visit Panguitch's Historic Downtown on Saturday evening at dusk and witness the awe-inspiring spectacle of balloons glowing up and down Main and Center Streets. Held annually during the last (full weekend) of June.
Bryce ATV/UTV Rally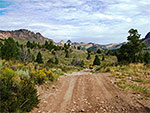 There's no better place for an ATV adventure than right outside of Panguitch on the many ATV trails that border the famous Bryce Canyon National Park. Known for being among the top ten most scenic trails in the entire country, there's no better place to spend hours of ATV riding. Late August hosts hundreds of avid riders who come for food, entertainment and ATV-ing with the whole family with several days' worth of activities and riding trails set up for making the most of the terrain and scenery.
Request Free Visitor Guide