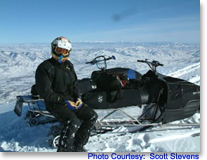 The Skyline of the Wasatch Plateau gets an abundance of snow each winter and provides great recreation for snowmobile riders from November to April. There are about 80 miles of groomed trails on the plateau that rise to an altitude of 10,000 feet.
Enjoy the great powder or use the trails to explore the scenic wonder of the Wasatch Plateau. The terrain is great for family rides. The more adventurous snowmobilers will also enjoy the diverse trails and mountain meadows.
Snowmobile riders can access the complex from the small towns at the base of the plateau. You can stay in town and be snowmobiling in a matter of minutes.
Click any snowmobiling trail or guide and outfitter listed below for more detailed information on how you can insure the best snowmobiling experience while in the Sanpete County area.
Sanpete County Snowmobile Guides & Outfitters
Search Sanpete County Snowmobile Guides & Outfitters
Sanpete County Snowmobiling Areas