Sundance Resort is located on the slopes of Mt. Timpanogos, 15 miles north of Provo, and 55 miles from the Salt Lake International Airport.
Listed below is information on rental car companies and shuttle services.
Map + Directions
Basic Directions
Getting to Sundance Resort is easy. We are located south of Park City, only a short drive from Provo and I-15. See the helpful map and more detailed directions below for more information.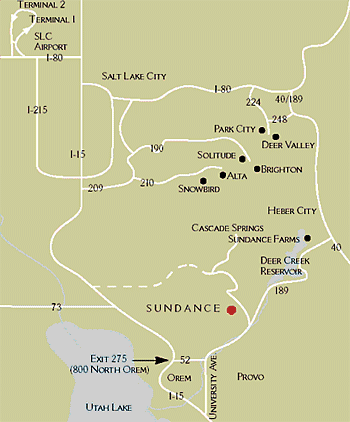 Driving Directions From Salt Lake International Airport.
Upon Exiting The Airport, follow I-80 East Towards Provo.
Transfer I-80 East To I-215 South take I-15 South towards Provo and continue to Orem (total distance 35.52 miles).
Exit Freeway At Exit 275 8th North.
Travel East On 8th North Until The Mouth Of The Canyon.
Using The Left Lane, Take Hwy 189, North Towards Heber City, For Approximately 7 Miles.
Turn Left At The Sundance Turn Off (ALPINE LOOP SCENIC/ UT-92), And Continue For 2 Miles Up The Canyon To Sundance.
Customizable Directions