One step through the gates of Temple Square and you'll be immersed in 35 acres of enchantment in the heart of Salt Lake City. Whether it's the rich history, the gorgeous gardens and architecture, or the vivid art and culture that pulls you in, you'll be sure to have an unforgettable experience.
Temple Square was founded by Mormon pioneers in 1847 when they arrived in the Salt Lake Valley. Though it started from humble and laborious beginnings - the temple itself took 40 years to build - it has grown into Utah's number one tourist attraction with over three million visitors per year. The grounds are open daily from 9 a.m. to 9 p.m. and admission is free, giving you the liberty to enjoy all that Temple Square has to offer.
Popular attractions on Temple Square include two visitors' centers with interactive films, Old and New Testament paintings and an 11-foot replica of Thorvaldsen's Christus. Enjoy a free concert in the Assembly Hall, a charming Gothic-style building on the southwest corner of Temple Square or watch the Tabernacle Choir's Music & the Spoken Word on Sunday mornings. View the Mormon Handcart statue, the Seagull Monument, and other inspiring statuary and fountains while you stroll the lush flower-filled grounds.
Christmas on Temple Square is a special delight to enjoy, with hundreds of thousands of lights sparkling on trees and shrubs around the Square, a life-size Nativity scene, and musical groups performing nightly throughout December.
Temple Square is easily accessible through public transit and within walking distance of shopping, dining, local businesses and historic buildings.
Featured Attractions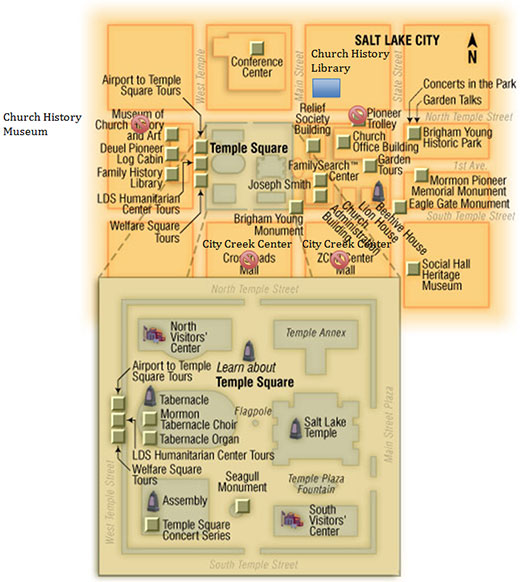 Salt Lake City Temple
Leave the daily stress behind as you wander through Temple Square, a 10-acre refuge with magnificently landscaped grounds surrounding the Salt Lake Temple. Temples play an essential role in the lives of LDS families. Although the temple itself is not open for tours, you can take a stroll around the grounds. Experienced representatives are available to take you on a complimentary tour of Temple Square (available in 40 languages), including the Tabernacle, the Assembly Hall, two visitors' centers, and the beautiful flower gardens. Stop in the South Visitors' Center to see a cutout model of the temple and learn more about the history and importance of this stunning building.
Assembly Hall
Music, music, music! On the southwest corner of Temple Square is the Assembly Hall, a charming Gothic-style building with lovely stained-glass windows. This jewel of a building was constructed by Latter-day Saint pioneers in 1877. In the past, the building was used for religious meetings, and now is mainly used for weekend concerts. Visit on a Friday or Saturday night for a free show from local or international artists.
Conference Center
The Conference Center, located north of Temple Square, was completed in April of 2000. This impressive building has the largest indoor theater in the world, seating 21,000 people with no visible supporting columns. The building also houses a number of original paintings including the famous Book of Mormon gallery by Arnold Friberg. It is open Monday through Sunday from 9:00 a.m. to 9:00 p.m. and free tours are available from 9:00 a.m. to 8:00 p.m.
Call 1-801-240-0075 for more Conference Center information. Groups of 20 or more wishing to tour the Conference Center need to schedule the tour by calling 1-801-240-7888.
Joseph Smith Memorial Building
Formerly the Hotel Utah, the Joseph Smith Memorial Building was built in 1911 and was internationally known for its incredible service. It was renovated after 76 years as a hotel and reopened in 1993 as a social center. Step inside during your visit to Temple Square to admire the architecture and grab a bite to eat at one of the three restaurants inside the building. The Joseph Smith Memorial Building also houses an on-site floral shop, Flowers Squared, and is available for all kinds of events, from weddings to business meetings. The building is named in honor of the man who was instrumental in restoring the gospel of Jesus Christ, translating the Book of Mormon, and organizing The Church of Jesus Christ of Latter-day Saints.
Dining and Hospitality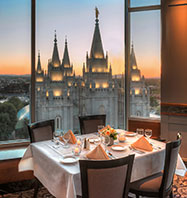 From the elegance of Utah's premier gourmet buffet to the historic home of Brigham Young, Temple Square Hospitality offers a variety of dining options suited to fit any mood or occasion. Enjoy a peaceful lunch break on Main Street Plaza, or have a special night out, and experience Temple Square Hospitality's tradition of exceptional service and hospitality.
For more information, please visit Temple Square Hospitality.
Events and Tours
Events
Joseph Smith The Prophet of the Restoration, a film about the life and legacy of Joseph Smith, founding prophet of The Church of Jesus Christ of Latter-day Saints, is being shown in the Legacy Theater of the Joseph Smith Memorial Building. (Mon.-Sat. 9am – 9pm)
The organ staff and guest organists perform 30-minute Tabernacle Organ Recitals in the Tabernacle from 12:00 noon to 12:30 p.m. Monday through Saturday. Sunday recitals will be performed from 2:00 p.m. to 2:30 p.m. in the Tabernacle. The impressive pipe organ is a symbol of the importance Latter-day Saints place on worshiping God through music.
View a listing of Temple Square Performances, including concerts, recitals, dramatic productions, and other music and cultural arts events scheduled on Temple Square. Most performances are available to the public free of charge.
Click here for more Temple Square events.
Tours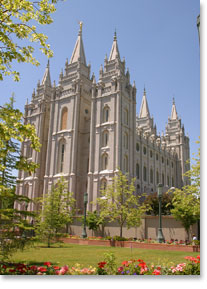 Temple Square provides excellent activities for escorted groups, fly/drive, genealogy research, family reunions, and other group and leisure travel. Most of the facilities are free and can be accessed within a 35-acre radius. Located in the heart of downtown Salt Lake City, these attractions and dining facilities are within easy access of many fine hotels, restaurants, and shopping. A great place to start is the Temple Square Garden Tour.