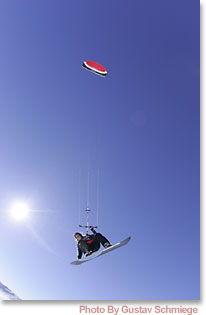 Come enjoy Utah's newest winter sport in scenic Sanpete Valley! All you need is the wind, a snowkite, and skis or snowboard.
Snowkites allow you to accelerate up to 50 mph. The lifting power of the wind allows kiters to jump to distances of up to 100 feet, making it the ultimate freestyle sport. There is no need for a ski lift or resort. Your snowkite will pull you uphill and downhill at varying speeds.
Utah's Skyline Drive, located on the Wasatch Plateau in south central Utah, is at an altitude of nearly 10,000 feet above sea level, and is a great spot for snowkiting, with plenty of deep snow, steep slopes, and open bowls. The wind can be fairly steady at 10-15 mph, and the scenic view is simply outstanding!
Snowkiting (also known as kiteboarding) has endless possibilities. It is the ultimate in backcountry skiing!
From Interstate 15, take Highway 132, 89, or 6 to 89 to get to Fairview, Utah. Then head east on Highway 31 to reach the best snowkite launch site.